D3 is the sunshine vitamin!
Andrew D.

1000 IU makes it easy to work out my doseage
Karen M.

This is a great inexpensive product.
Logan S.
Everything You Need
In the UK, New Zealand and many other countries Vitamin D is being given FREE to the elderly and at risk because 80% of people admitted to ICU with a respiratory infection are found to be deficient.
With the days drawing in and less time spent outside now is a great time to look at your vitamin D regime and get into a protocol to carry you through to spring and the longer days of summer.
 Also supports foundational health goals such as healthy bones and muscles, cardiovascular function, as well as a very well known supplement to boost and support immune function*.
 Get Vitamin D boosted with inflammation controlling flavonoids  when you double it up with Go Condition Prime to create the ultimate 2021 Immunity Bundle.
What's Inside
1000 IU Vitamin D/ Capsule
Sunshine Vitamin
Increased Mental Focus
Elevated Mood
Healthy Bones & Muscles
Cardiovascular Function
Immune Support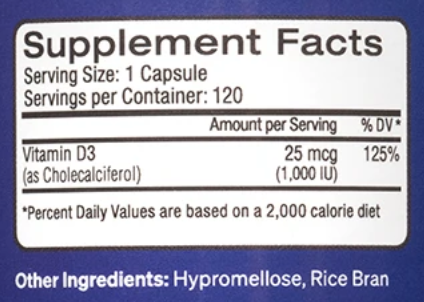 Frequently asked questions
Vitamin D is both a nutrient we eat and a hormone our bodies make. It is a fat-soluble vitamin that is responsible for multiple biological processes. Vitamin D, which has always been known for its capacity to support the absorption of calcium, has more recently been found to support immune function, a healthy inflammatory response, and muscle function. A low vitamin D level is associated with a higher risk for various chronic health concerns, including heart disease and diabetes.
Unlike vitamins that must be acquired from outside sources, humans can make vitamin D in their skin with adequate exposure to sunlight. In circumstances where we get limited sunlight, or because we might not consume adequate dietary sources of vitamin D, many of us are at risk of having too low a level.
Few foods are naturally rich in vitamin D3. The best sources are the flesh of fatty fish and fish liver oils. Smaller amounts are found in egg yolks, cheese, and beef liver. Hence vegetarians and people following a vegan lifestyle are particularly prone to be deficient, especially during the colder months.
A healthy vitamin D level can be crucial for optimal athletic performance, bone repair after exercise or injury, normal muscle function, healthy immune function, and cardiovascular health. Athletes and individuals with physically demanding occupations should especially seek to ensure they maintain a higher level of vitamin D. *
Potential symptoms of low vitamin D
Although having a low level of vitamin D is typically asymptomatic, you might experience:
•More frequent infections and other inflammatory conditions
•Persistent Fatigue
•Muscle or bone discomfort
•Consistent depressed or sad mood
Shoot us an email at help@gocondition.co and we'll get back to you as soon as possible, and always within 24 hours.
We would particularly love to hear from you to discuss our products or our company and how we can help you be primed to perform, to achieve your goals and overcome the barriers that that stand in the way of achieving your will.
Yes, these bars are plant-based and contain rolled oats, quinoa and pea protein. The chocolate is dark not dairy chocolate. The bars do contain tree nuts.
Focus Bars are a delicious functional food that builds strength and endurance, energy and focus through the combination of three active ingredients;
Cocoa Flavonols,L-Theanine and Caffeine.
L-theanine is an active ingredient found in green tea.
Our Focus Bars contain 50mg of Suntheanine L-theanine.
L-theanine promotes relaxation by contributing to a number of changes in the brain:
Boosts levels of GABA and other calming brain chemicals. L-theanine elevates levels of GABA, as well as serotonin and dopamine. These chemicals are known as neurotransmitters, and they work in the brain to regulate emotions, mood, concentration, alertness, and sleep, as well as appetite, energy, and other cognitive skills. Increasing levels of these calming brain chemicals promotes relaxation and can help with sleep.
Lowers levels of"excitatory" brain chemicals. At the same time it is increasing chemicals that promote feelings of calm, L-theanine also reduces levels of chemicals in the brain that are linked to stress and anxiety. This may also be a way that L-theanine can protect brain cells against stress and age-related damage.
Enhances alpha brainwaves. Alpha brain waves are associated with a state of "wakeful relaxation." That's the state of mind you experience when meditating, being creative, or letting your mind wander in daydreaming. Alpha waves are also present during REM sleep. L-theanine appears to trigger the release of alpha-waves, which enhances relaxation, focus, and creativity.
L-theanine on its own isn't a stimulant. It will help with clarity and focus to a degree but doesn't provide the raw energy boost that caffeine does.
Caffeine as a standalone product helps with productivity, energy and increases reaction time but doesn't unlock focus, attention & clarity.
Together they combine their best of attributes to create a truly focused, energetic, productive mind.
50mg of caffeine is about 2/3 of a cup of coffee. The same amount of L-theanine ensures you get the boost from caffeine and at the same time it is complemented by the relaxed focus of the L-theanine.
The dose of 50mg of L-theanine and 50mg of caffeine is ideal to ensure that these two compounds support but don't overwhelm each other.
They provide all the energy, awareness and focus you need with none of the jitteriness and anxiety you don't. Literally the best of both worlds.
The Flavonoids in Go Condition Focus bars are naturally occurring in the Cocoa present in each bar.
These cocoa flavanols increase nitric oxide levels in your body. Nitric oxide is a molecule that supports healthy blood flow and enables the delivery of essential oxygen and nutrients to every organ, muscle and tissue throughout your body.
This means that critical parts of your body – including your heart, brain, muscles and even skin – can get the nourishment they need to perform at their best.
Focus bars are small in size at 25g, low in calories (90-110), low in sugar (which are all naturally occurring) but big in punch, giving you the energy and focus you need to get through your day.
The small size allows you to control the energy dose you want. Need more of a boost? Just eat two.
The size also ensures that the bars don't exact a price on your appetite or leave you feeling weighed down. They deliver everything you need and nothing you don't.
Perfect to kick of your day, tune you in for a test, set you up for a workout, pick you up in the afternoon help you stay alert on the road, or an extra energy boost for the trail.
Wherever your spirit moves you, and your mind takes you these bars will help you follow with anticipation, excitement and purpose.
Shoot us an email at help@gocondition.co  and we'll get back to you as soon as possible, and always within 24 hours.
We would particularly love to hear from you to discuss our products or our company and how we can help you be primed to perform, to achieve your goals and overcome the barriers that that stand in the way of achieving your will.
Customer Reviews
Write a Review
Ask a Question
01/29/2021
Anonymous

United States
I recommend this product
Good Winter Immunity
I bought this on subscription to make sure my D levels are maintained over winter after reading how important this is. Easy to swallow and easy to measure out the amount (1000 IU per capsule). I take 3 per day.
11/16/2020
Josh M.

United States
D3
Feel great after taking