FUEL YOUR BODY
RULE THE DAY
GET PRIMED
NUTRITION ON A MISSION
Primed Nutrition™ was born from Federal Ammunition's unrelenting pursuit to improve the shooting experience and Go Condition's scientifically developed supplements to increase focus and performance on the battlefield. Designed exclusively for hunters and shooters for energy to outlast the day.

SUPER MAG
Exclusive whey protein supplement provides vital muscle building nutrients for strength during and after the hunt. Choose from Chocolate or Vanilla.

GROWTH & RECOVERY
PROTEIN SUPPLEMENT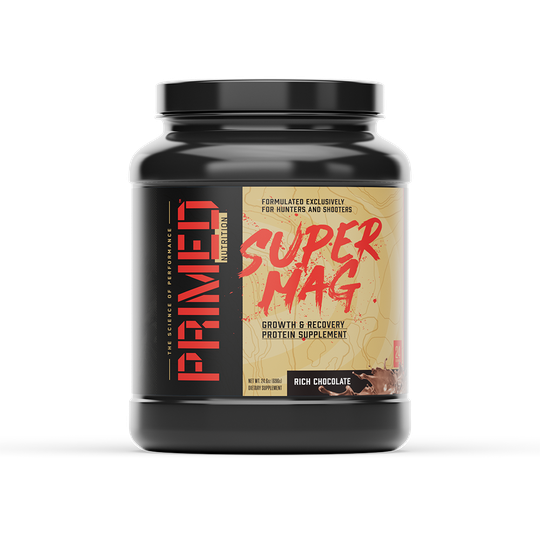 LOAD-UP

A raspberry flavored powder all-natural supplement, scientifically developed for less fatigue, increased alertness, faster recovery and hold-steady shots.

PRE-WORKOUT
SUPPLEMENT
RE-RACK
An exclusive raspberry flavored amino acid blend proven to reduce soreness, improve muscle recovery and lessen follow-up fatigue after a day in the field. 

BRANCH CHAIN AMINO ACID
RECOVERY SUPPLEMENT

FIELD FUEL

All-natural core-strength provides instant and convenient fuel in your choice of Peanut Chocolate or Blueberry Crisp.


CAFFEINATED
ENERGY BAR
Use left/right arrows to navigate the slideshow or swipe left/right if using a mobile device