Great way to finish strong
Logan S

Ideal complement to the protein and pre-workout
Andy H
Everything You Need
Recovery = Growth
Go Condition BCAA Recovery Plus branch chain amino acid is developed to support lean muscle growth and recovery following exercise and to help maintain lean muscle mass every day.

In addition to a proven 2:1:1 ratio of Leucine, Valine, and Isoleucine to support muscle growth and recovery, Go Condition BCAA Recovery Plus includes 1g of Glutamine to fuel muscles after exercise.

Improve your post-workout recovery and support your muscle growth with Go Condition BCAA Recovery.
4g BCAAs
1g Glutamine for Recovery
Post-exercise Fuel for Muscles
Supports Muscle Growth
 
The Science*

Amino acids are essential for maintaining muscles and rebuilding muscle during and after intense exercise. The proven 2:1:1 ratio of leucine, isoleucine and valine have been shown to support exercise recovery by both reducing muscle damage and improving muscle synthesis.

In addition, glutamine has been shown to help reduce fatigue and decrease muscle soreness during and after exercise.

To gain maximum benefits, we recommend that you also take Go Condition Whey Protein Plus 30 to 60 minutes after consuming Go Condition BCAA Recovery Plus.

Directions

Mix one serving (1 scoop) of Go Condition BCAA Recovery with 8-10 oz of water. We recommend that Go Condition BCAA Recovery be taken during or immediately after your workout. For best results, drink during your workout and then drink Go Condition Whey Protein Plus 30 minutes after your workout.
Find out more about BCAA's HERE
What's Inside
4g BCAAs
1g Glutamine
Build Endurance
Build Strength
Faster Recovery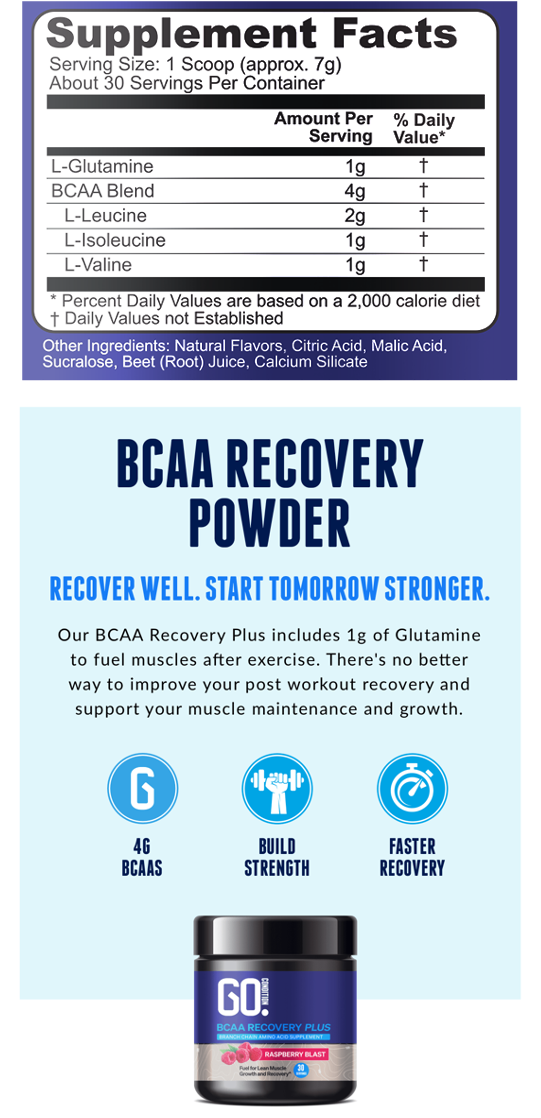 Customer Reviews
Write a Review
Ask a Question
I recommend this product
Muscle recovery
The soreness I feel from previous workouts is definitely diminished so I can go harder the day after a heavy workout.
10/28/2021
Shane A.

United States
I recommend this product
It works, but....
I bought this in a bundle to use with the pre-workout. I felt like it was working pretty good, but then came the problem. My wife started hot yoga and was telling me about her struggles of trying to make it through some of those classes. She is NOT a supplement taker and was hesitant to try the BCAAs. I had to show her the nutrition guide and do a few searches to show her that this would help with recovery. She took it to one class and now.... I have to SHARE my BCAA. That's the downside, it works too good! So, we've purchased more and we each have our own containers now. Great product and a great company to do business with!
09/27/2021
Anonymous

United States
I recommend this product
Fountain of Youth
I absolutely love this product. It has made it so much faster for my body to recover. I can now workout like in my 20s again at nearly 50.