Great taste and no bad stomach. Great job
Logan S

I'm a fan of the vanilla cream. Smooth taste
I take it during my workout. It digests easily
Nathan M

Pretty simple protein, good flavor and consistency.
great job
Karen M
Everything You Need
Don't Waste Your Protein.



Go Condition Whey Protein Plus is precisely formulated with 20g of whey protein plus 200mg of Pro-Hydrolase enzyme that ensures all of the protein makes it to your muscles.
This proprietary formulation is essential to improve protein digestion and is shown to increase essential BCAAs in the blood by 20% to fuel the growth and recovery of your muscles.
Finish your workouts with Go Condition Whey Protein Plus for more efficient lean muscle growth and greater strength so you will always be 'Go Condition'.
20g of Whey Protein
200mg of ProHydrolase® Enzyme to increase BCAA's and protein absorption
Promotes lean muscle growth
Faster Recovery
Great, smooth taste
Low Glycemic Index
The Science*
Read on below or you can also watch this quick 80 second video which explains the benefits of ProHydrolase;
Most protein powders boast a lot of protein. But it's an empty boast as most of it never finds its way to the muscles. This is because our bodies have a difficult time digesting protein and a large percentage never makes it into the blood where it can feed your muscles so that they can rebuild.
That means most protein in most powders is wasted. Go Condition Whey Protein Plus is formulated to ensure that 20g on the label means 20g working hard for you. So you are only paying for the protein you use.
Go Condition Whey Protein Plus includes ProHydrolase® enzymes which quickly break the protein down in smaller particles so that they can be absorbed into the blood and transported to your muscle cells, while increasing essential BCAA's by up to 20%.
The result is less protein waste with a formulation that is proven to more effectively enter the blood stream and feed the muscles.
This maximizes the performance benefits you are after, while reducing bloating and cramping, delivering results you will see and feel.
*https://www.deerland.com/prohydrolase/
Directions
Mix 1 serving (1 scoop) of Go Condition Whey Protein Plus with 8-10 oz of water or milk. Drink 1-2 servings per day. To best assist muscle recovery and muscle growth, take 1 serving immediately following exercise.
What's Inside
20g Whey Protein
200mg ProHydrolase
0g Sugar
1g Carbs
90 Calories
Build Strength
Faster Recovery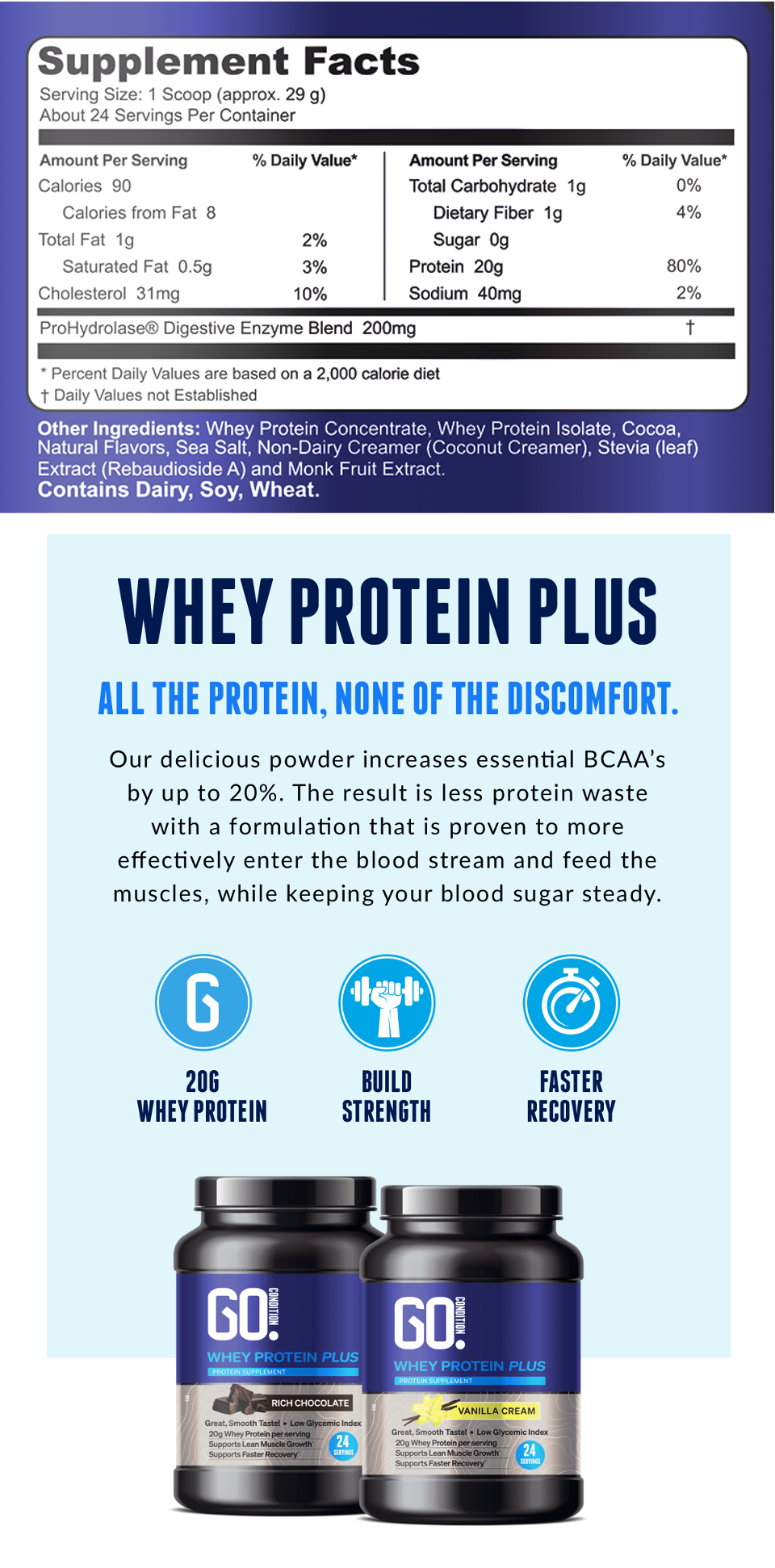 Customer Reviews
Write a Review
Ask a Question
I recommend this product
Been Keeping it GO-ing with Prime for over a full year now.
Been using Prime every day ever since October of 2020, so over a full year now, and it's been keeping me GO-ing on a daily basis, whether at work or at play, and during 27 Spartan race events so far this year too, including one 50K Ultra. It's given me the energy and focus I've needed to not only run all those races, but to train for them every day too, and as of this weekend (Nov 20-21) I'll be running 3 more Spartan races to end the year with 30, which is the most I've ever ran in a single year. So, I'm glad I've had Go Condition Prime, to help keep me GO-ing and doing it ANYWAY in all of those races this year, and help me reach my goal of completing my 200th lifetime Spartan race this coming weekend too. AROO.
10/06/2021
John H.

United States
Good Product
Great protein
06/22/2021
Anthony K.

United States
Perfect for my needs
I'm a whey fanatic, and I really appreciate how easy this is on my stomach; regularly I'll take 30 grams before a core and hip workout or a heat training (running) session, just to have the aminos peaking in my system during, and the formula here is dialed for that. Great job GO